VCC Teaching, Learning, and Research Symposium 2023
"Designing for today's post-secondary landscape"
March 30 & 31, 2023
9am-4pm each day
online Zoom webinar
In recent years, we have seen incredible change in post-secondary education that impacts how we design and deliver our courses and programs.
There is a greater emphasis on the student learning experience; utilization of technology; blended and online learning; social justice; and diverse ways of knowing and being.
In this symposium, we will explore instructional and research practices that look at how we can best design and deliver programming that enriches the student experience and meets the current and future needs of teaching and learning in post-secondary education.
Registration (free) is required. Please visit the Eventbrite page to register:
https://TLRsymposium2023.eventbrite.ca
We are currently looking for presenters to expand upon this theme, and we invite members of the VCC community and those outside of VCC to submit proposals.
EXTENDED! The call for proposals will close Tuesday January 31, 2023.
---
The following word cloud aims to provide inspiration for symposium attendees and presenters: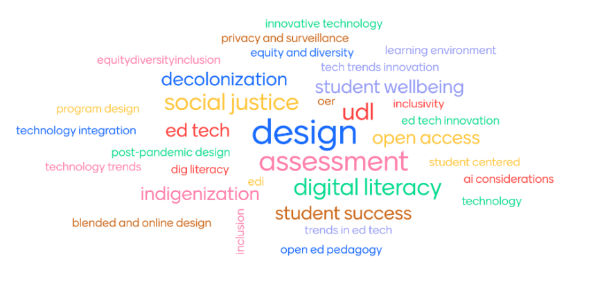 If you have any questions or require further information, contact IASupport@vcc.ca‌