"Designing for today's post-secondary landscape"
March 30 & 31, 2023
9am-4pm each day
online Zoom webinar
In recent years, we have seen incredible change in post-secondary education that impacts how we design and deliver our courses and programs.
There is a greater emphasis on the student learning experience; utilization of technology; blended and online learning; social justice; and diverse ways of knowing and being.
In this symposium, we will explore instructional and research practices that look at how we can best design and deliver programming that enriches the student experience and meets the current and future needs of teaching and learning in post-secondary education.
---
The following word cloud aims to provide inspiration for symposium attendees and presenters: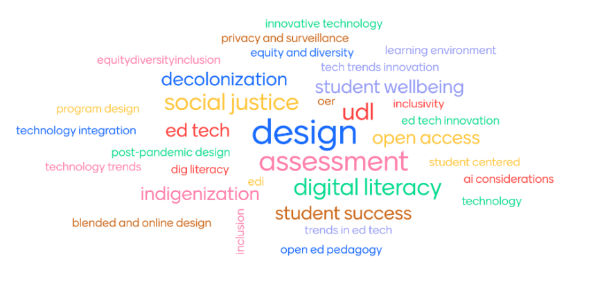 ASL interpreters will be present for this entire event.
We strive to host inclusive, accessible events that enable all individuals to engage fully. To request an accommodation or for inquiries about accessibility, please contact iasupport@vcc.ca
Schedule for March 30 - Day One
ALL TIMES ARE LOCAL VANCOUVER TIME
9:00 - 9:15
Welcome, land acknowledgment, blessing
Elder John
9:15 - 10:15
Keynote Address:
Artificial Intelligence in Higher Education: What it Means for Teaching and Learning Potential
Sarah Eaton (University of Calgary)
10:15 - 11:15
Panel Discussion – ChatGPT
Moderator: Emily Simpson (VCC)
Ben Ferrel (BC Ministry of Post-Secondary Education and Future Skills)
Jennifer Cummins (VCC)
James Fournie (VCC)
Naz Serter (VCC Student)
11:15 - 11:25
ABC of Intercultural Communication
Nataliya Kharchenko (Red River College)
11:25 - 11:35
Improving Accessibility and UDL in Post-Pandemic Teaching
Deirdre Morgan (VCC)
11:35 - 11:45
Introduction to Digital BC
James Fournie (VCC)
11:45 - 12:15
Leading Change with User Design and Ethical Purpose
Danielle Palombi and Jamie Goodfellow (Sheridan College)
12:15 - 13:00
Lunch
13:00 - 14:00
Promoting Learning for All Students: Two Alternative Grading Approaches
Bettina Boyle and Mary Giovannetti (Capilano University)
14:00 - 14:30
Decolonizing Cultural Safety Education through Reciprocity & Making
Marlene Erickson (College of New Caledonia), Connie Watts, Zoe Laycock, Jean Chisholm, and Nadia Beyzaei (Emily Carr University of Art + Design)
14:30 - 15:30 **
6+6 = Sustainable WIL: Addressing Six Curricular Gaps within Six Key Employability Domains
Theresa Southam and Tyler Ballam (Selkirk College)
** For this session, bring a course outline or some program outcomes. Theresa and Tyler will demonstrate how you can begin to fill gaps that leave your students unready for work after graduation. **
15:30 - 16:00
Designing Open Educational Resources (OERs) using Articulate Rise
Helen Lee, Krista Lambert, and Lynn Truong (Justice Institute of BC)
Schedule for March 31 - Day Two
9:00 - 9:15
Welcome, land acknowledgment, blessing
Elder John
9:15 - 10:15
Keynote Address:
Critical Conversations on Indigenization and Internationalization in the Era of Equity, Diversity and Inclusion
Kumari Beck and Michelle Pidgeon (Simon Fraser University)
10:15 - 10:45
Engaging International Students through Culturally Responsive Pedagogy
Zenith Bose (Columbia College)
10:45 - 11:15
Indigenous Research Principles: An Immersive Experience
Nora Sobel and Dylan Smitzniuk (Red River College)
11:15 - 12:15
VCC Student Research: Lightning talk presentations
Hosted by Alicia Copp (VCC)
Follow this link to access the VCC student research posters.
12:15 - 13:00
Lunch
13:00 - 13:10
The role of the Post Secondary in the Integration of Skilled Immigrant Women in BC
Katarina Jovanovic (VCC)
13:10 - 13:20
Integrating Qualitative Evaluation when Indigenizing Curriculum
Radhika Kumar (VCC)
13:20 - 13:30
Academic Integrity
Elle Ting and Andy Sellwood (VCC)
13:30 - 14:30
Accessible Clinical Education in BC: Current Trends and Future Directions
Brianna Higgins and Sheri Wiwchar (VCC)
14:30 - 15:00
Surfing the Wave, or Caught in the Undertow? Incorporating the Experience and Expectations of K-12 Learners
Venecia Williams (VCC), Heidi Parisotto (VCC), and Noah Waspe (Claren Academy)
15:00 - 16:00
Building Bridges Across Social Divide: Setting the Stage for Courageous Dialogues
Andrea Korens (VCC), Diana Twiss (Capilano University), and Pablo Pastor (Selkirk College)